3 Reasons to Take the Niro Hybrid on Your Next Road Trip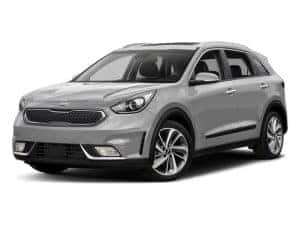 At a glance, the 2018 Kia Niro Hybrid may look like any other small SUV. But take a closer look, and you will quickly see it's rather special. As a hybrid, the Niro utilizes a battery pack and electric motor which boosts the 1.6-liter engine's performance and efficiency. The result is a car achieving low CO2 emissions without sacrificing fuel consumption, which is as efficient as the Niro's frugal diesel-powered counterparts.
Add to this a great price and a seven-year warranty, and it's the perfect choice for anyone looking for an economic yet environmentally friendly car. It's also a great choice if you're planning a road trip, for three great reasons.
Smooth Driving
As a hybrid, the Niro is small but mighty, offering a smooth driving experience you'll struggle to match in cars of comparable size, power, and efficiency. It's a stable drive that doesn't require much in terms of corrections. It has plenty of height to it, yet this doesn't result in lots of body lean on fast corners, and even at high speeds it's a comfortable drive.
Perhaps the most impressive aspect of the Niro is the ability of the electric motor and gasoline engine to work in harmony via the automatic six-speed gear box. With the ability to seamlessly switch between its power sources, the change is almost imperceptible.
The Niro is also a wonderfully peaceful drive, a welcome change if you're used to the endless clatter of a diesel engine. It offers a near-silent drive with almost zero vibrations through your controls.
Comfort and Style
Inside you'll fine a great mix of tactile and attractive features in areas you see and touch, and hardier, more practical elements in areas that are out of sight and likely to take a lot of wear.
Both the steering wheel and seats have a lot of scope for adjustments, making it effortless to find the perfect driving position. The height of the roof ensures that even the tallest occupant won't bump their head or feel cramped.
In addition to the attractive aesthetic components, the Niro also boasts a lot in the way of tech. An infotainment system with a seven- or eight-inch color touch screen is available as well as Bluetooth connectivity, Apple CarPlay and Android Auto, and a DAB radio, so it's easy to control your smartphone and music safely.
SatNav is an optional extra, while the menus and dials are easy to navigate or view at a glance. This means you can maximize the entertainment while minimizing the frustration no matter how long your road trip lasts.
Spacious and Practical
A lot of hybrids sacrifice trunk space in order to accommodate their electric elements. The Niro has a battery small enough to be housed under the back seat. This, plus a flat floor and almost nonexistent load lip, ensures plenty of cargo space and makes it really easy to load heavy objects into your trunk.
In addition, the rear seats fold with only a small incline. It's very spacious for a small SUV, especially in the back seats.
Overall the Kia Niro is an excellent choice of car for any eco-warrior embarking on a road trip who doesn't want to sacrifice either creature comforts or fuel efficiency.