4 Exciting Fall Festivals in Ohio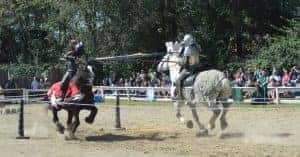 Midwest in the fall is beautiful and exciting, with the leaves changing colors and the temperatures cooling just enough to enjoy the outdoors. Ohio has some of the best Midwest scenery and is home to several exciting fall festivals. Check out our list of some of our favorite festivals.
HallZOOween
HallZOOween takes place at the Cincinnati Zoo in the Botanical Garden, and it is a family favorite. The event runs every Saturday and Sunday in October, from noon until 5 p.m. Children will enjoy the different trick or treat stations throughout the zoo's many attractions.
Some of the attractions include a Halloween inspired scavenger hunt, a full pumpkin patch, and a haunted train ride. Even the zoo animals are in the Halloween spirit with an elephant pumpkin smash, snow monkey pumpkin hide and seek, and a polar bear pumpkin bob. This Halloween event is free with regular zoo admission ($19 for adults and $13 for children) and is the perfect way to get into the Halloween spirit.
Country Applefest
The Country Applefest is the perfect place to satisfy all your fall apple cravings. Also a staple in the community, the annual country Apple festival is designed entirely around apples, a Midwest fall favorite. Attendees can enjoy the apple fritters, apple donuts, apple cider, caramel apples, and even apple inspired crafts. This apple enthusiast's event is held at the Warren County Fairgrounds in Lebanon on September 30, from 10 a.m. to 7 p.m. Entrance and parking are both free.
Ohio Renaissance Festival
Running from September 2 to October 29, the Ohio Renaissance Festival is a great way to celebrate fall with a renaissance themed event. Spread out over 30 acres, the city is transformed into a 16th century English village. With 12 entertainment stages, over 150 shops, and a variety of food and drink options, you are sure to have a great time. Visit on one of the themed weekends to get even more into character, with fantasy, romance, and Halloween inspired weekends. The Halloween weekend features both adult and children costume contests and a pumpkin decorating event. Tickets for the festival are $22.50 for adults and $9.50 for children under 12.
Old West Festival
Moving from the Renaissance times to the old west era, the Ohio Old West Festival is located in Williamsburg. The festival was designed to mimic Dodge City in 1878. Attendees can leave the 21st century behind and immerse themselves entirely in old western times. The event runs from September 9 to October 15 every Saturday and Sunday from 10 a.m. to 6 p.m. With on-site deputies and saloon shows, you will feel like you are right in the middle of a western movie. The covered wagon rides and gold panning opportunities are perfect family-friendly activities. There are plenty of photo opportunities with in-character actors. Tickets range from $12 to $25 per person and parking is free.
With so many Ohio fall festivals, you will never run out of fall entertainment options. Any of these fall festivals are the perfect way to ring in the fall. Still looking for fun things to do? Spend a day outdoors in Chagrin Falls!