4 Spots for a Great Slice Around Middlefield, OH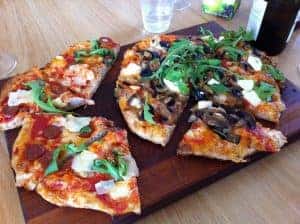 Middlefield, Ohio is known for its love of sandwiches, but sometimes a craving for a slice is just too hard to beat. Thankfully there are a number of locations that can satisfy the need for some Italian cuisine. This guide takes a look at some of the local favorites for a great slice of pizza.
Vinny's Authentic Italian Eatery
One of the landmark Italian restaurants in Middlefield is Vinny's Authentic Italian Eatery, commonly referred to as Vinny's Pizza. Situated on West High Street, it boasts a small yet tantalizing menu that will rival any authentic Italian restaurant. Patrons who are able to make their way past all the delicious entree options on the menu and head straight for the pizzas, won't be disappointed. The pizzas are offered at 10, 12, and 14 inches and any of the specialty pizzas can be ordered as a calzone. There is also a gluten-free option on the menu, offered as a 12-inch.
Georgio's Oven Fresh Pizza Co.
When a franchise gets it right, it's bound to be a great deal. Georgio's over on West High Street seems to tick all the boxes when it comes to fast food. They deliver, which makes it the ideal option for movie nights at home. Customers choose between 10, 12, or 14 inches or a massive half sheet which produces 20 slices. Favorites include the Georgio's gourmet and the mega meat. There is also a vegan option that has no cheese and features a delicious option of seasonal vegetables and a fragrant sauce.
Pizza by Tony
When it comes to food trucks, it's easy to imagine tacos or burgers but not often a wood-fired pizza truck. Pizza by Tony is just that and offers passersby the opportunity to experience a culinary treat with a difference. The secret to the success of this endeavor is that the food truck is managed by the owner himself. Tony offers a 12-inch pizza with just a few ingredients to keep things simple. Customers have the option of adding pepperoni, mild Italian sausage, mushroom, diced tomato, caramelized onions, and/or bell peppers. The result is a juicy, cheesy pizza with just the right amount of toppings.
Zeppe's Pizzeria
If you're tired of the regular thin base and require a bit more substance to your pizza pie, then Zeppe's is the place to be. They offer pizzas with a difference, as the crust is similar to that of a pie. They also offer calzones and a gluten-free option. Some of the favorite items on the menu include the Philly Cheesesteak Pizza, the Breakfast Club Pizza, and the Shrimp and Spinach Pizza. Customers have the option to collect or request delivery on their orders.
It doesn't always take a full seater restaurant to create the perfect pizza ambiance. All it takes is a pizza chef with a passion for good flavors, great dough, the right amount of cheese, and an oven that can work the magic. Residents of Middlefield are in no short supply of any of these.