5 Great Trails to Hike or Run in Middlefield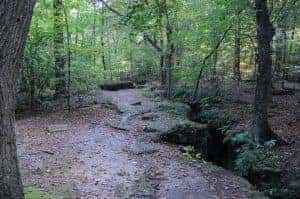 Hiking and running offer plenty of health benefits. Along with being great exercise, both activities can get you outside to enjoy some fresh air and sunshine. If you're interested in checking out a few of the best places to hike or run in Middlefield, Ohio, take some time to explore these trails.
1. Nelson-Kennedy Ledges State Park
Although Nelson-Kennedy Ledges State Park is a small park at 167 acres, it's also packed with beautiful scenery that provides an exciting experience during your hike. The park has four hiking trails that will take you past unique formations, such as Indian Pass, Devil's Icebox, and Old Maid's Kitchen. The trails range from easy to difficult and have distances from a half-mile to a full mile. Since the trails cover uneven surfaces, they're only recommended for hiking.
2. Swine Creek Reservation
Since Swine Creek Reservation is situated in Middlefield, you don't have to go far to enjoy the hiking opportunities available here. The reservation is a 412-acre park with almost 6 miles of hiking trails. The Sugarbush, Siltstone, Gray Fox, and Meadowlark trails all offer fairly level terrain, so it is possible to run and hike on these. However, the Glen and Valley trails have steeper terrain with downhill descents into rocky ravines, so they would be better suited for just hiking.
3. Maple Highlands Trail
The Maple Highlands Trail uses sections of the abandoned B&O Railroad corridor to stretch 20.3 miles through the Ohio countryside with only a small break in the City of Chardon, which is currently creating a connector trail. You can start the trail at Swine Creek Reservation and choose to travel north to its ending point on Colburn Road or simply enjoy a small section of it. Along the way you'll pass under historic covered bridges and have the opportunity to see diverse wildlife. The Maple Highlands Trail is paved, so it's ideal for both running and hiking.
4. Headwaters Park
Headwaters Park is a 926-acre park that's seven minutes north of Middlefield. It's home to the East Branch Reservoir and over 3 miles of hiking trails. If you're looking for an easy hike, consider the 0.2-mile Kingfisher Trail or 0.3-mile Pike Point Trail. Both trails provide passage to the reservoir shoreline and waterfowl observation areas for lovely views during your hike. While you can run on these trails, keep in mind that they're natural and unpaved, so you need to watch your footing.
5. Punderson State Park
The 741-acre Punderson State Park is home to a 150-acre natural lake, seven hiking trails, and one multi-use trail. The hiking trails range from easy to moderate with distances starting at a half-mile and going all the up to 2.2 miles. While these trails are only suitable for hiking, the 2.2-mile Cayuga Trail is the multi-use trail that's good for either running or hiking.
Whether you want to push your endurance on a long run or simply enjoy an easy hike, these great trails in Middlefield give you the opportunity to get outside for a nice run or hike.