5 Places for Sweet Treats in Middlefield, Ohio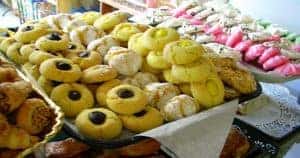 Most everybody has a sweet tooth! No matter how carefully you watch your diet and eat healthy foods every day, sometimes you just need to treat yourself to a doughnut, ice cream, candy, hot cocoa, or other dessert. Here are some of the best places in Middlefield, Ohio, to satisfy your craving.
Buckeye Chocolate Company
This family-owned business has been in operation for over 20 years and specializes in producing a variety of gourmet chocolate confections. Buckeyes are the signature candy of Ohio, so no visit to this state is complete without one of their milk chocolate or dark chocolate buckeyes. Other popular items are the chocolate-covered Oreos, milk chocolate jumbo turtle, and fresh cinnamon roasted nuts. Located at 15065 Kinsman Road in Middlefield, their café and coffee shop serves espresso and bakery treats as well as their signature candies.
White House Chocolates
Another favorite destination for chocolate addicts is White House Chocolates, located at 14607 Kinsman Road. This candy shop makes its own treats using the finest ingredients, with options such as white, milk, and dark chocolate candy, truffles, nut brittle, praline, candied nuts and caramel corn. According to their website, their best seller is the white chocolate cranberry-almond cluster. They carry between 8-10 flavors of fudge at all times. Round out the selection with bagged gummy bears, licorice, and other candy.
D.S. Cakes & Sweets Café
At this family-owned café you can begin your visit with something nutritious such as a sandwich, wrap, salad, quiche, or bowl of homemade soup, but desserts are where it shines. Every day brings a different variety of delicious cupcakes, muffins, and cookies, all of which can be ordered for special events. They also make cheesecake, specialty cakes, and wedding cakes. Those on special diets will enjoy their gluten-free desserts as well. They are located at 11110 Kinsman Road in nearby Newbury.
Mary Yoder's Amish Kitchen, Bakery & Gift Shop
Located at 14743 North State Street in Middlefield, Mary Yoder's Amish Kitchen is known for its fresh, home-cooked meals. If you just want a sweet treat, you can choose from over 30 types of pie including sugar-free varieties, drop cookies, bar cookies, and seasonal Christmas cookies. The bakery suggests calling to order ahead, to make sure your favorite flavor is available for a party or holiday celebration.
King Kone
If you scream for ice cream, pay a visit to King Kone at 10621 Grant Street in nearby Chardon. The Hewitt family serves up over 30 flavors of Hershey's ice cream, plus a 24-flavor selection of soft serve. Order your favorite specialty sundae or a shake, float, or slushie. They even sell the "doggie sundae" for your furry friend. Need something more substantial? They have Nathan's Hot Dogs, nachos, and fries as well. King Kone is on the go, too — you can rent a full-service ice cream truck or soft serve machine for your party or other event.
Whether you just want to stop in to satisfy a craving for something sweet, get a treat for the whole family, or even order a specialty dessert for an event, there are plenty of places in Middlefield to visit.