5 Safety Features on the 2017 Kia Sorento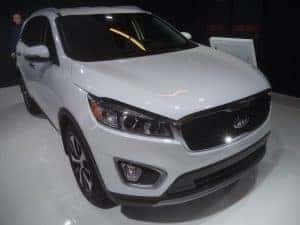 You've likely heard good things about the 2017 Kia Sorento, like that it earned the Insurance Institute of Highway Safety's Top Safety Pick+ award, but just what exactly earned it such recognition? Unlike other SUVs, the Sorento has a universal set of standard safety features across all trim levels, so whether you opt for the basic L or the illustrious SXL, you'll get a complete protection suite for yourself and your passengers. Let's take a look at some of the safety features on this model.
Side Curtain Airbags
Made to help protect occupants against T-bone collisions and rollovers, Side Curtain Airbags release down along the inner doors instead of outward to reduce the severity of their impact. These airbags are featured in both the front and second rows, whereas most vehicles only add them to the front. Advanced sensors tell the airbags to deploy before an impact actually occurs, so they're guaranteed to be fully released and ready to mitigate impacts. The Sorento's dual front-seat side-mounted airbags serve a similar purpose.
Child Safety Features
The 2017 Sorento features LATCH, or Low Anchors and Tethers for Children. It's a universal system that provides the simplest and safest way to connect or disconnect a child seat. In addition, the rear doors have childproof locks that prevent them from opening or unlocking while the vehicle is moving.
Tire-Pressure Monitoring
This system is both convenient and fundamental to helping the Sorento stop on cue. The Tire-Pressure Monitoring System constantly monitors tire inflation and projects a warning light at the instrument cluster if the pressure has gotten too low on any of them. The driver display on some models can even show exactly which of the tires needs more pressure.
Hill-Start Assist
Assist systems help the driver make the right move without taking control in an emergency, and the two key assist features on the 2017 Sorento are for starting the vehicle on a hill or for making a complete stop. Hill-Start Assist Control activates when the model starts to move down a steep hill. If you would start to move backward from a stop because you're not parked or braking, this system will gently apply the brakes for the first two seconds to give you plenty of time to accelerate forward and up the hill.
Brake Assist
Finally, we have the Brake Assist System, or BAS. This involves multiple sensors that detect whether an emergency stop is necessary, as well as how difficult it would be to stop at the current moment. If determined vital, BAS will apply brake pedal pressure and augment it over how the driver is braking, applying more force if the driver hasn't pushed hard enough.
Feel free to compare the different trim levels and options for the Sorento to get a better picture of which one suits you best. Just don't worry about safety because every Sorento model has all the features above and many more. We're happy to answer any questions or talk about models in our inventory as well, so don't hesitate to call, email, or visit us.