5 Things Families Will Love About the 2018 Kia Sorento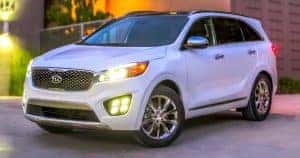 Gone are the days of the clunky family vehicle. With sleek lines and modern styling, the 2018 Kia Sorento elevates the family vehicle to new heights. The newest Sorento models combine technology with comfort to make a family-friendly vehicle you'll be proud to drive, kids in tow or not. Read on to find out five reasons why the 2018 Kia Sorento is our new favorite family vehicle.
Configuration Options
The Kia Sorento is available in multiple configurations, meaning families can pick what suits their needs best. Larger families should look to the seven-passenger V6 model. The extra seating means more room for kiddos and their friends, while the beefier V6 engine provides the extra energy needed for heavier loads. Also, a little extra power makes the driving experience more fun.
For smaller families looking for a budget-friendly ride, the two-row option seats five and allows for extra cargo space. This configuration is available with both standard features and more upgraded packages.
Smooth Ride
One of the most impressive aspects of the 2018 Kia Sorento is the smoothness of its ride. Comparable to luxury vehicles, both the four-cylinder and the V6 models are designed to hug the road with minimal bouncing or jostling. The well-designed shock system is a major plus for parents with infants — rough road conditions aren't as likely to awaken little ones sleeping in the back.
Quiet Cabin
In addition to the smooth ride, Kia's engineers have managed to create a whisper-quiet interior that has been implemented in most of the 2018 vehicles, include the Sorento. Not only is the engine noise dampened, but the acoustics are further improved by limiting other noises such as loud vehicles.
Such a quiet interior means kids won't have the crank the volume to hear a movie or play games in the backseat.
Impressive Technology
Kia is dedicated to including top-of-the-line technology, even in its standard trim level vehicles. Every Kia Sorento comes with selectable driving modes, Bluetooth hands-free capabilities, a USB port, and a rearview camera. Available features — included in higher level trims or add-on packages — include Android or Apple integration, UVO touchscreen interface, hands-free liftgate, and keyless ignition, just to name a few.
By allowing buyers extra flexibility in choosing their add-on tech features, Kia makes it easy for families to budget while also making modern technology available to drivers.
Safety
One of the most important components of a family vehicle is safety, and the 2018 Kia Sorento takes that consideration very seriously. High test crash ratings and roll prevention measures indicate the solid build of the Sorento, while available active safety features like lane keep assist and pedestrian warnings help keep even distracted parents aware of their surroundings. Owners of the 2018 Kia Sorento can drive easy, thanks to the updated safety features that warn them of dangerous situations and help improve safe driving habits.
These are just a few reasons why families will love the new 2018 Kia Sorento, the midsized SUV for all family sizes and budgets.