6 Steps to Prepare Your Kia for Winter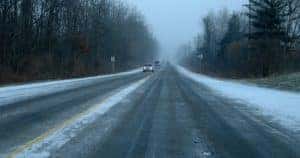 Whether you hate it or love it, you can't deny that winter changes driving patterns. Seasonal obstacles like ice and snow drifts demand extra attention, and there's a whole litany of extra factors to consider when prepping your vehicle and keeping it in good shape during the colder months. We've listed six ways to prep your Kia for winter to reduce stress and help keep you and your passengers safe.
Plan for the Worst
When it comes to winter driving, sometimes it's best to plan for the worst. Having a winter-specific emergency kit may make all the difference in a crisis. Planning ahead of time means you've already got it stashed in your vehicle, so you can't forget to pack it.
Your kit should include items like warm blankets, flares, ice scrapers, a portable shovel, and disposable heating packs. If you get stuck in a sudden winter storm or hit a snow drift, these items can help keep you comfortable and flag down help if you can't dig the car out of the snow yourself.
Check the Antifreeze
Antifreeze is one of the most important winter-specific fluids in your vehicle. Drivers often forget about it during the summer but, come winter, you'll want to check and top off the antifreeze level.
A word of caution: Antifreeze should not be stored in an easily accessible place. Its sweet smell and bright color can make it seem tempting to adventurous youngsters or family pets, and it's toxic to both.
Inspect Treads
Solid tire treads are incredibly important during the winter months. The rubber grooves will help keep your tires firmly planted on the road and may mitigate some of the danger of ice patches. If you're concerned about slippery roads, there are tires for Kia vehicles that are specifically designed for winter driving. Simply stop by your dealership or local tire vendor and grab yourself a set.
Run Heater
Nothing is worse than heading out on a winter's drive and finding out that your heater isn't working. Besides keeping you comfortable, heaters can also help keep you safe if you find yourself stuck. Run your system a few times before the coldest months settle in to see if everything is in working order. If not, it's better to get it fixed early.
Exchange Fluids
Besides antifreeze, there are other fluids to think about while prepping your vehicle. Windshield wiper fluid can freeze during the winter, which can damage the hosing and make it difficult to keep your windshield clean. Luckily, there is wiper fluid specifically designed to resist freezing.
Additionally, make sure to get an oil change before winter sets in. You don't want to get stuck with a broken down car when the weather turns bad.
Wax Thoroughly
Winter can be hard on a car's paint job, so getting a thorough waxing beforehand can help preserve the paint and prevent rust. Rinsing your car regularly can also be beneficial, especially if you drive through road salt.
These six tips will help keep your vehicle in tip-top shape during the winter months with minimal cost and stress.