Antique Markets Worth Checking out In Middlefield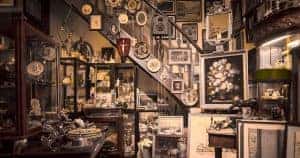 At first blush, Middlefield may not seem like the perfect place to find a priceless piece of art or china available for a bargain, or a stunning Chesterfield armchair in perfect condition. But Middlefield offers a surprising array of excellent antique markets that are well worth checking out, and more than a few flea markets worthy of a look if you're after a great deal. And, you can also learn more about the best antique stores in Geauga County and best wineries near Burton.
Country Collections Antique Mall
Nestled in the very heart of Amish country is a gem of an antique store in the form of Country Collections Antique Mall. The 4500-square-foot antique mall is set on Nauvoo Road, just north of Route 87 and south of Route 322, and boasts 48 dealers.
Open seven days a week between 10 a.m. and 5 p.m. Monday through Saturday and 11 a.m. to 4 p.m. on Sunday, Country Collections provides a dazzling variety of everything you could want in an antique market. From vintage toys and trains, primitives, crocks and clocks, to furniture, glassware, jewelry, license plates and more, it's a treasure trove for the antique enthusiast.
Pavilion Auction And Flea Market
If you enjoy a good flea market as much as an antique store, the Pavilion Auction is well worth a look. Also located on Nauvoo Road, close to the Country Collections Antique Mall, this antique auction and flea market is held every Monday and Saturday from 8 a.m. to 12 p.m.
Admission is free and on-site parking is available. You can expect to find excellent antiquing as well as craft supplies, and the usual dizzying array of flea market treasures and bargains.
The vendors at the Pavilion vary. Three auctioneers are usually present during the warmer months of the year. Be sure to check their website for exact dates before you go. Auctions are held in the morning, with indoor and outdoor vendors on site, and additional market items including plants, eggs, and vegetables.
Antique Shops In Middlefield
For those of you who are strictly into antiquing and prefer to steer clear of the flea markets, there are numerous other stops in Middlefield and the surrounding areas of Northern Ohio that are loaded with treasures. Cleveland Heights offers Allenson's Coventry Antiques and Books, set on Coventry Road, as well as Antiques on Lorain Avenue, which covers a 40-block area between West 38th Street and West 81st Street. You will also find Sprint Street Antiques in Burton on Main Street. Over in Chardon, Antiques on the Square is located on Main Street.
If you can't get enough of flea markets, there are plenty more on offer. Middlefield Flea Market can be found on Nauvoo Road, while the Holmes County Amish Flea Market is on State Route 39, half a mile outside Walnut Creek. Jamie's Flea Market is on Route 133, half a mile west of Route 58, and during the first week of December every year, the Annual E.J. Thomas Christmas Arts & Crafts Show is held at 198 Hill Street in Akron.
Explore More Around Burton
Now that you've read about some of the best antique markets in Middelfield, check out more local features like fun things to do in Burton.