Go Green with the 2017 Kia Optima Hybrid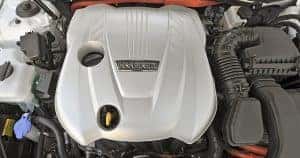 With more people becoming conscious of the environmental impact of traditional gasoline-powered cars, it's no surprise that eco-friendly cars are growing in popularity. Kia is one of the main manufacturers at the forefront of developing motor vehicles with a reduced environmental impact. The 2017 Kia Optima Hybrid is one of the most eco-friendly cars available. Read on to get the lowdown on the main features of this stylish hybrid sedan.
Hybrid Powertrain
Instead of relying on gasoline to solely power it, the Kia Optima Hybrid combines a traditional gasoline engine with an electric motor. Kia offers its Optima Hybrid model with a six-speed automatic transmission, which is refreshing for drivers used to this transmission type who will find it easier to transition to hybrid.
The electric motor is a 38 kW version that combines with a 2.0-liter GDI four-cylinder engine, which on its own has a 154 horsepower rating. Total combined horsepower with both the gasoline engine and the electric motor is 193 horsepower. A lithium-polymer battery pack powers the electric motor, delivering up to 29 miles of electric range. Total combined mpg is an impressive 42 mpg.
Build
The 2017 Kia Optima Hybrid comes with a much more durable chassis than previous years, with a body composed of more than 50 percent  Advanced High Strength Steel (AHSS). The new stronger body provides better protection during accidents and leads to a quieter ride. An active grille automatically opens and closes depending on the speed you drive at, which improves aerodynamics while optimizing engine cooling. A new beveled rear car bumper adds boldness to the exterior, while even the alloy wheels incorporate aerodynamics into their design.
Technology
The available tech features represent an important selling point for most modern motor vehicles. The 2017 Kia Optima Hybrid delivers in abundance for customers who want the latest car technologies. Autonomous braking applies the brakes automatically to avoid potential collisions and accidents. Other advanced safety features include blind spot detection, smart cruise control, and a front collision warning system.
In terms of infotainment, you get stellar features, including smartphone-projected navigation and Kia's nifty UVO3 system, which adds Apple CarPlay and Android Auto functionality, giving drivers the chance to access core smartphone functions straight from the included touchscreen. An available premium audio system comes with 10 speakers for crystal clear sound. There's also a 630-watt digital amplifier.
Interior
The Kia Optima Hybrid features soft-touch materials throughout the interior, making for a comfortable, stylish cabin. The Optima Hybrid comes with its own uniquely designed instrument panel gauges. Real stitched cloth along the dash and doors shows you the work that goes into crafting each model. The 2017 model has a stiffer seat frame that improves the driving experience by reducing vibrations on the road. Heated and ventilated front seats are available to add another dimension of comfort to the driving experience.
The 2017 Kia Optima Hybrid is one of the best environmentally friendly vehicles on the road and is well worth considering.