Make the Most of An Ohio Maple Tour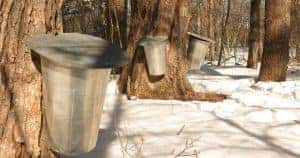 Maple Syrup is one of those foods that you think tastes great even when you've only had the artificially flavored kind, which is more readily available and considerably less expensive. Then, you taste the real stuff, freshly made. You realize that, as good as the artificial kind tastes, it's nothing compared to the real McCoy.
Early settlers in American learned how to make maple syrup from the native inhabitants of the land. Native Americans showed them how to transform the natural, watery sap that seeps from the humble maple tree into a delicious, wholesome treat.
Maple Tours are held annually for tourists interested in the fascinating tradition of making the sweet stuff.
What Is A Maple Tour?
Northeast Ohio has an abundance of the maple trees needed to create syrup and has become something of a national capital for maple produce. Every year Maple Tours are held, affording the opportunity for a seriously sweet trip.
The sap used can be collected at only one time of year in Ohio, during late February and early March. It rises in the maple trees throughout the area, ready to be tapped.
What To Expect On Your Maple Tour
The locals of Ohio happily open their sugarhouses to visitors, boiling down some fresh maple syrup from sap just taken from the trees. The process takes the raw sap and transforms it into the thick, deliciously sweet and rich amber nectar we all love.
Taking a Maple Tour is an excellent family outing that everyone is sure to enjoy. It gives you the chance to spend a day in the country, drive through the stunning countryside to take in the beautiful trees, and learn more about the magical, alchemical art of creating syrup.
It's cold in Ohio during Maple Tour season, so outdoor wear and boots will be needed.
There are numerous tours you can join in Ohio. To make the most of them it's a good idea to visit more than one farm. A tour takes you from place to place, visiting various sugarhouses.
Maple Madness Driving Tour
The Maple Madness Driving Tour is a great way to start. It's free and takes place in March each year, over two weekends. It's worth noting that Ohio has a large Amish community, and Amish farms aren't open on Sundays.
Aside from that, you will find Sugarhouses open all over the countryside. The tours are state-wide events enabling you to see how it's done by different producers.
This is a great opportunity to combine your Maple Tour with an adventurous road trip around the state. From the small sugarbushes set up in backyards to the bit commercial operations, you can hop from one to another to your heart's content.
Sugarbush Creek Farm Ohio Maple Tour
If you're not keen on the idea of visiting multiple locations, choose one that will guarantee a great day out. Sugarbush Creek Farm's Maple Tour also runs in March and can be found on Route 528, just south of Route 322. Ride in the farm's wagon up to their Sugarbush and indulge yourself in the tasting room. The Cermak Family are available to give demonstrations of the process, and have a wide selection of Maple Syrup, Maple Sugar, and Maple Butter for you to sample.