What You Need to Know About the 2018 Kia Rio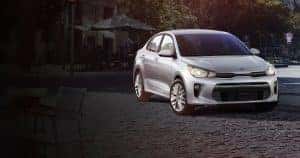 Kia continues to offer vehicles that are in high demand since they are designed with your needs in mind. A lot of city drivers are looking for ways of making driving easier and more exciting in the city. The 2018 Kia Rio is designed for city driving and offers you the best possible daily city driving experience. Here is what you need to know about the 2018 Kia Rio.
Benefits
One of the biggest benefits of getting the 2018 Kia Rio is that it is a compact sedan. That means that you will be able to comfortably take it to more destinations without the concerns of larger vehicles. Finding parking spaces, even parallel parking, is easier due to its compact size. However, it still has the space to get you and everything you need to the places that you want to go.
Performance
The Rio's size also increases its performance. The Rio is designed for agile driving. A re-designed engine and transmission combination give the Rio more than enough power for quick and agile driving without sacrificing its fuel efficiency. This makes it a great vehicle for highway and city driving. Kia also added the Motor Driven Power Steering (MDPS) system which channels the power to where it is needed most. The MDPS gives you even more control over your driving experience by ensuring that the Rio can handle nearly any driving condition.
Trim Levels
The 2018 Kia Rio will be available in several trim packages. Beginning with the LX package, the Rio comes with a range of simplified features focused on giving you a great vehicle at a more affordable price. It has limited color options, but has the same level of performance as the other packages. It is also the only package where you can get a manual transmission.
The S package is the mid-range and offers a full range of detail options. It comes in all of the colors barring specialty colors for the higher package, and adds accents in and around the car to give it a more stylish appearance. The S package introduces the rear camera, Bluetooth, and the new Siri Eyes Free system. The EX package is the top model and comes with all of the features available in the other models. The EX has several specialty colors and adds a range of other luxury features such as voice recognition and 17-inch alloy wheels.
Safety
Safety is a big focus for Kia, and the Rio comes equipped with many safety features. The Electronic Stability System, Hill-Start Assist Control (HAC), and ABS systems are included to help you maintain control when it is needed. A full range of airbags also helps protect everyone from impacts in any direction.
The Kia Rio is a great option if you are into light, agile, fun, and safe vehicles for daily driving. Visit your nearest Kia dealer today to experience it for yourself. There's a good chance that you will want a Rio for yourself, especially if you want a comfortable vehicle for all of your daily driving needs.