Where to Shop in Middlefield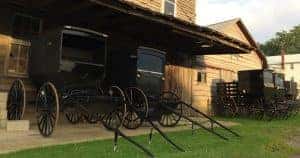 Heading to Middlefield? Shopping here is not about the big chains and name brands. This is right in the heart of the world's fourth largest Amish community, so you'll find unique, quality treasures in smaller stores around town. Get some real Amish Country keepsakes from these popular stores.
Mary Yoder's Amish Kitchen Bakery & Collectible Gifts
Experience some tasty, old-fashioned Amish home cooking. Delight in a classic roast meal, take home some spreads and sauces, and of course, indulge in dessert. But while the food is the focus here, it's not the only thing on the table. Wander through some unique Amish country gifts while you digest your meal.
Country Collections Antique Mall
Antique chasers simply must make a stop here. Forty-eight dealers come together in 4,500 square feet of space to offer unique and interesting items. Just about anything can be found here, from linens and fine china, to jewelry and glassware, to books and clocks and other treasures.
The Barn Treasures
Located in (you guessed it) an old barn, this store provides consigned and one-of-a-kind local artisan treasures. Hours may vary, so always check the website before you plan your visit.
Country Arts & Jewelry
Get a change of pace in your home decor by adding a country flair to homewares and accessories. This store offers Native American artifacts and jewelry, as well as New Age items such as supplies for aromatherapy, crystals, and smudging. The kids will be able to find a few traditional treasures here too.
Amish Home Craft and Bakery
Can you really say no to shopping and eating in the same place? On the shopping side of things, expect high-quality handmade Amish and Mennonite goods. Looking for housewares? They have quilts, wall hangings, cutting boards, placemats, and more. Amuse the kids with Amish dolls, wooden puzzles, and toys. Find unique home furnishings with small handcrafted benches and woven baskets. For the hungry shopper, try a variety of sweet and savory pies and baked goods in the Amish style.
The Craft Cupboard
Cozy home decor and sweaters just like Grandma made abound in this cute local store. Try your own crafty hand with a great fabric selection and a large range of applique patterns. In fact, they have pretty much everything from quilting products to cards and other odd crafting supplies. If you want to try your hand a traditional art form, this is the place.
Nauvoo Family Market
Let's be real, a day of shopping is hungry work. Take a break or celebrate a job well done at this popular food market that gives you a taste of the Amish way. With a quality cheese selection, freshly baked goods and tasty deli items, all with the option of saving money by buying in bulk, there's everything to love. Don't worry, if you're just traveling through you can just get a fresh sandwich made to go!
Middleton offers a truly unique shopping experience. As some stores can have seasonal operation hours, always plan your visit ahead of time.